Meet Emliee & Chris, employees at ARUP's Molecular Infectious Disease Lab
This Laboratory Professionals Week, we're taking a moment to thank laboratory researchers, technicians, administrative staff and medical officers who are going above and beyond the call of duty to serve patients during the COVID-19 pandemic. Today, ACLA is shining a light on two employees at ARUP's Molecular Infectious Disease Lab: one who spent weeks training volunteers to assist with COVID-19 testing, and another who worked around the clock to bring ARUP's COVID-19 test online in just five days.
Emilee, a New York-qualified medical laboratory scientist & teaching specialist in ARUP's Molecular Infectious Disease Lab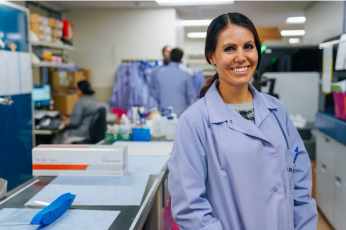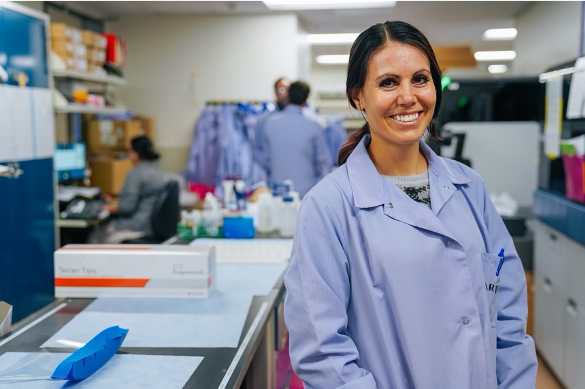 At first, Emilee wanted to be a math or physics teacher. Then, one semester shy of earning a degree in microbiology, she learned about a medical laboratory science program. Fast forward 15 years, and she is now a medical laboratory scientist and a teaching specialist in ARUP's Molecular Infectious Disease (MID) Lab. "I guess you could call it coming full circle," she says. "I love helping people understand things."
Emilee's teaching skills were in high demand when thousands of COVID-19 specimens started pouring into the MID lab in mid-March.
"My workload exploded," she said. Emilee started working 50 to 70 hours a week to train volunteers from other labs and departments at ARUP so they could assist with COVID-19 molecular testing. "I was hyper-focused on just getting people up and running so they could start performing the tests – the energy and excitement they brought with them into the lab was impressive."
All the media coverage around COVID-19 testing has placed a spotlight on laboratory medicine as a profession. Now, when people ask Emilee if she works in a lab and does COVID-19 testing, she catches their attention.
"I'm kind of a big deal now," she says, adding that a lot of her coworkers consider themselves to be introverts and never anticipated so much recognition. "But honestly, it feels good to be noticed and for people to know that what we are doing is good for society—it's kind of a boost."
Chris, certified technologist specialist in ARUP's Molecular Infectious Disease Lab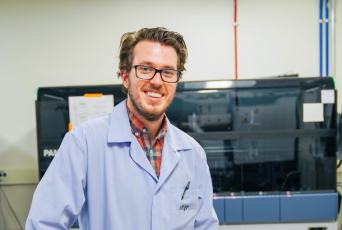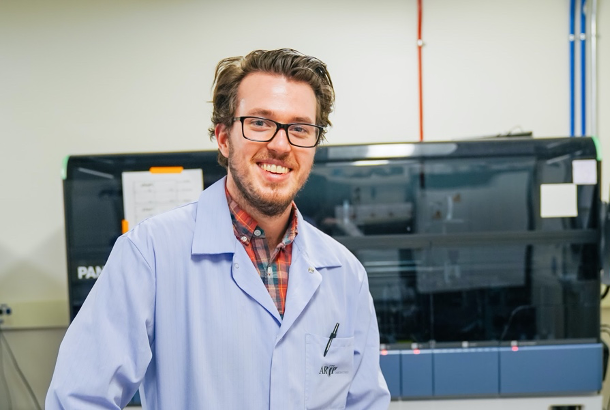 Chris has learned to be responsive in his role as a certified technologist specialist in ARUP Laboratories' Molecular Infectious Disease (MID) Lab. That ability was never more important than when he and his colleagues learned that they had five days to bring ARUP's COVID-19 molecular diagnostic test online.
One of the two instruments used to run the test at the time was down.* "Our entire ability to run the COVID test was banking on getting this fixed," Chris recalls. It was a Friday; the test would go live Monday. Chris, along with a Hologic technician, worked until midnight, then he worked through the weekend.
"I wasn't alone. A whole bunch of us were here and sharing the load." That weekend, his team received training on using the new reagents for the test. "These reagents were precious, like gold," he says. "The shipping folks would look for the labels and immediately bring the packages directly to us."
"My dad keeps saying, 'You're right at the epicenter of all this. You should take notes. You could write a book about this one day,'" Chris says with a shy smile. "It does feel good to be making a difference. The better we do, the better everyone is going to do."
Thanks to Emilee and Chris' hard work, and the work of their fellow lab professionals, commercial labs across the nation have conducted 2.45 million COVID-19 tests to date.
*ARUP currently has five instruments running COVID-19 tests and the capacity to perform more than 4,600 tests a day.