ACLA Launches "Stop Lab Cuts" Ad Campaign Urging Congress to Protect Access to Laboratory Services for America's Seniors

Washington, D.C. – The American Clinical Laboratory Association (ACLA) has launched a series of digital advertisements as part of the Stop Lab Cuts campaign to urge Congress to protect patient access to essential laboratory services by passing the Saving Access to Laboratory Services Act (S. 4449/H.R. 8188). As part this effort, digital advertisements will appear on news sites across the Beltway and online via publications in targeted states reaching policymakers, stakeholders, and America's seniors and patients.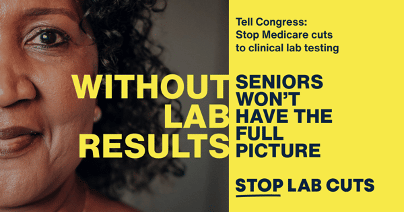 If enacted, the Saving Access to Laboratory Services Act would make critical reforms to Medicare rate-setting for widely ordered laboratory services that provide daily, life-saving information for clinicians and patients across nearly all diseases. Tests that guide the diagnosis, treatment, and prevention of diabetes, opioid addiction, many cancers, and numerous other conditions, have received three years of 10 percent cuts in reimbursement due to incomplete and unrepresentative payer rate data collected by the Centers for Medicare and Medicaid Services (CMS). If Congress fails to act, the next round of Medicare cuts would cut reimbursement for more than 800 commonly ordered tests, resulting in up to a 38 percent cumulative cut to tests that are widely used to screen and manage many serious and chronic diseases.
Through passage of this bipartisan, bicameral legislation, Congress can protect the delivery of routine care for patients, encourage innovation in next generation clinical laboratory tests, and strengthen the national clinical laboratory infrastructure to ensure we are prepared to manage future public health crises.
"Our Stop Lab Cuts campaign is calling attention to the impact on patients and public health of the looming Medicare cuts to laboratory tests slated for January, which follow deep year-over-year cuts that have already hit America's clinical laboratories," said Susan Van Meter, ACLA President. "Diagnostic test results inform 70 percent of clinical decisions, helping clinicians and patients monitor health and devise personalized treatment plans for patients every day, while guiding public health responses such as with COVID-19 and monkeypox. Without congressional action this calendar year, laboratories will face a fourth round of Medicare payment cuts that will threaten access to critical services at a time when we should be strengthening our national laboratory infrastructure – not undermining it. This campaign is intended to raise awareness and spark further momentum to remedy these impending cuts through the bipartisan Saving Access to Laboratory Services Act."
The campaign website, StopLabCuts.org, will continue to serve as a central resource with frequent updates to include insights from patient, provider, and public health stakeholders, as well as leaders in the clinical laboratory industry. The website will also keep visitors informed on legislative activity and provide a direct opportunity to engage members of Congress on this important issue.
Background:
Absent congressional intervention, more than 800 tests will receive up to 15 percent cuts on January 1, 2023. This is on top of previous cuts between 2017 and 2022 that resulted in a 27 percent reimbursement cut for tests used to screen and diagnose diabetes, heart disease, and other chronic conditions. Some tests could see a cumulative cut of up to 38 percent. Collectively, these cuts may threaten access to laboratory services for diagnosing and treating seniors with a wide range of conditions, including diabetes, heart disease, liver disease, kidney disease, prostate and colon cancers, anemia, viral and bacterial infections, and opioid dependency, among others. Additionally, these cuts would come as clinical laboratories across the country face continued inflationary pressure on costs, labor, and supply shortages, as well as the ongoing demands of the pandemic.
More recently, ACLA's multi-year legal challenge to the implementation of the Protecting Access to Medicare Act (PAMA) was resolved in ACLA's favor with a ruling by the U.S. Court of Appeals for the D.C. Circuit. The Court of Appeals determined that CMS' 2016 final rule defining an "applicable laboratory" was arbitrary and capricious. The court also found that laboratories have been harmed by PAMA's implementation.
The Saving Access to Laboratory Services Act was introduced in June 2022 by Sens. Sherrod Brown (D-OH) and Richard Burr (R-NC), along with Reps. Bill Pascrell (D-NJ), Scott Peters (D-CA), Richard Hudson (R-NC), Gus Bilirakis (R-FL), and Kurt Schrader (D-OR). ACLA's statement on the introduction of the bill is available here.
To learn more about the Stop Lab Cuts campaign, visit StopLabCuts.org.
###
The American Clinical Laboratory Association (ACLA) is the national trade association representing leading laboratories that deliver essential diagnostic health information to patients and providers. ACLA members are at the forefront of driving diagnostic innovation to meet the country's evolving health care needs and provide vital clinical laboratory tests that identify and prevent infectious, acute and chronic disease. ACLA works to advance the next generation of health care delivery through policies that expand access to lifesaving testing services.