Importance of Clinical Lab Testing Highlighted During Medical Lab Professionals Week
Washington, D.C. – In recognition of the 300,000 medical laboratory professionals across the country who perform and interpret more than 10 billion laboratory tests annually, the American Clinical Laboratory Association (ACLA) today joined the American Society for Clinical Pathology in celebrating Medical Lab Professionals Week, held April 20-26, 2014.
"At a time when lab tests guide more than 70 percent of medical decisions and personalized medicine opens new windows to wellness, clinical lab professionals play an increasingly important role in today's healthcare system," said ACLA President Alan Mertz. "From early detection and diagnosis of disease to individualized treatment plans based on a person's unique genetic makeup, clinical lab testing is key to improving healthcare quality and containing long-term health costs."
Lab Testing and Cost Containment
As an example, Mertz pointed to the role of lab testing in controlling the cost of diabetes, a chronic disease that affects more than 79 million Americans and is projected to cost the health care system as much as $514 billion by 2025. Three laboratory tests – the fasting glucose test, the glucose tolerance test, and the hemoglobin A1c test – play a critical role in diagnosing pre-diabetes and monitoring the impact of changes in diet and other risk factors. Good control of blood glucose – detected by lab tests – can delay or prevent diabetes complications such as heart disease, stroke, blindness, kidney disease, amputation, and even death.
The chart below demonstrates how early detection and management of diabetes through regular lab testing can save tens of thousands of dollars when treating a single patient.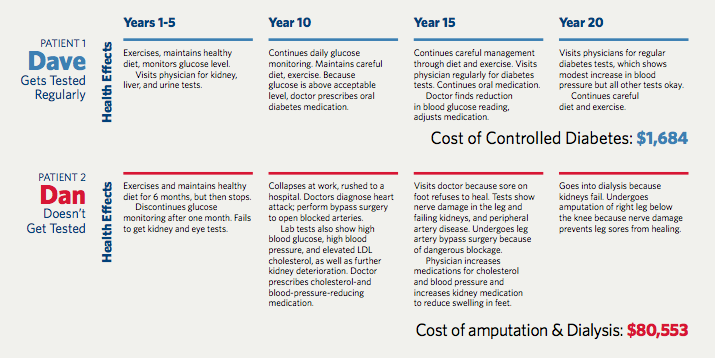 How Does Lab Testing Work?
Clinical laboratory testing plays an essential part in the delivery of quality health care. A physician or other clinician orders lab tests to diagnose, treat, manage, or monitor a patient's condition. The process begins with the collection of a sample of blood, tissue, or other biological matter from the patient, which is then sent to the laboratory where it is uniquely identified and examined to make certain that it is appropriate for the testing ordered by the health care provider.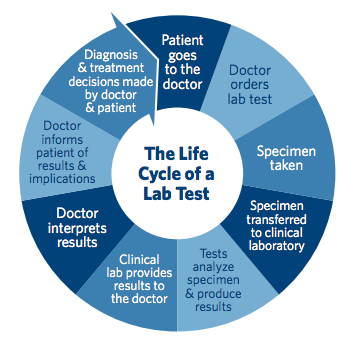 Some tests are manually evaluated, while most are performed using technically advanced instrumentation. Labs employ teams of licensed, highly skilled medical professionals specially trained to perform the requested analyses. Once the testing is complete, the lab issues a report with the findings to the ordering clinician. When the healthcare provider receives and interprets the lab results, informed decisions can be made as to most appropriate treatment for the patient.
America's clinical labs support hundreds of thousands of employees, with a talent pool comprised of pathologists, biochemists, medical laboratory scientists, phlebotomists, pathologists' assistants, and other highly skilled medical staff. With 80% of the nation's 322,488 clinical laboratories operating as small businesses, the sector is a significant contributor to local jobs and economies. More information on the value of laboratory testing can be found at https://www.acla.com/value-of-lab-testing/.
The ACLA is a not-for-profit association representing the nation's leading national, regional, and esoteric clinical laboratories on key issues of common concern, including federal and state government reimbursement and regulatory policies. For more information, please visit https://www.acla.com or connect with ACLA on Twitter and Facebook.
# # #