Ambry Genetics lab adapts to bring crucial COVID-19 tests to patients
This Laboratory Professionals Week, we honor the innovators, collaborators and colleagues who have gone above and beyond behind the scenes to meet patient need. Today, ACLA is featuring Nancy Kramer, Nicholas Johnson and Richard Srey from Ambry Genetics' lab team who expanded their capacity to bring COVID-19 tests to patients nationwide while remaining committed to their core genetic testing.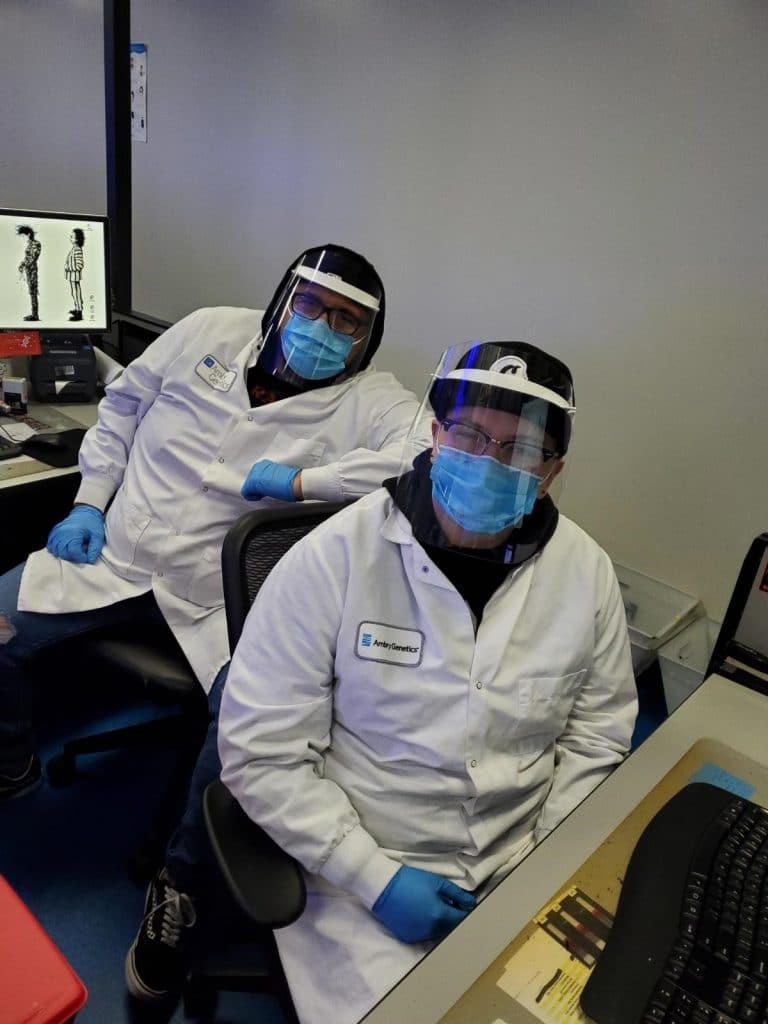 Nancy Kramer, Nicholas Johnson and Richard Srey are just a few of the important lab professionals at Ambry Genetics who have dedicated themselves to serving a critical community need. To meet patient needs, the team frequently exceeded their typical 3,000 specimens per day threshold for both COVID-19 and their core genetic testing in Ambry's state-of-the-art SuperLab, which enabled them to analyze and process samples more quickly and reduce turnaround times (TAT). At the height of the COVID-19 surge in January 2021, the team processed more than 4,000 specimens a day on several occasions. At the same time, they managed to scale genetic testing onto the latest Next Generation Sequencing (NGS) instrument, allowing Ambry to more than double their oncology volume capacity per sequencing run.
Finding an Urgent Solution
Nancy Kramer, Director, Accessioning Operations, and Nicholas Johnson, Business Operations Analyst, needed creative solutions that would allow them to dedicate just a handful of folks to enter thousands of COVID-19 test orders weekly.
"With COVID, we had to completely rethink our internal processes in order to meet the demands of volume and TAT," said Nancy. "We needed to quickly absorb a lot of information into the system. Our team stepped up to the challenge, including IT, to leverage a solution. Now, one person can create 500-600 orders in a matter of a few hours."
Despite the surge in demand, the team remained diligent knowing their work was essential to patients and their health.
"We were keeping people safe, keeping people working. We could see the massive need for testing and trusted our team to get them in and get it right! We would not have survived without them," explained Nancy.
To keep pace with volume, the team created a new approach to facilitate bulk orders. Using their new bulk order tool and manifest system, the lab was able to process the orders in a fraction of the time. The 200 orders that would previously take one person a full day to create, can now be done in just 30 minutes.
"Our testing volume ballooned and we quickly found that we had a lot of new issues to deal with," said Nicholas. "It was a team effort. With support from our IT Helpdesk and Development teams, we were able to juggle the routine core genetic casework while also mastering new platforms, tools, workflows, and often people. It felt good to be a part of a solution during such a rapidly evolving time, and while the work could be really exhausting, the team remained unwaveringly determined."
Working as One: A Massive Team Effort
Before Richard Srey, Manager of the Clinical Laboratory, stepped up to manage the COVID lab team, he never imagined he would be part of an undertaking like this one.
"I've never seen anything like this in my life," said Richard. "This task took enormous effort from all groups across the company: Sanger, NGS, Array, Multiplex Ligation-Dependent Probe Amplification, Extraction & Distribution, RNA, Quality Control, etc. I can't point to one single person who did more work than the other. The team we assembled illustrates how our Clinical Lab as a whole made sacrifices to shoulder this additional assay."
Ambry's motto encompasses the shared commitment of its employees to work together across all departments to improve patients' lives – One Ambry. According to Richard, "This was definitely a One Ambry effort."
Since ACLA member laboratories first validated and launched the initial novel tests for SARS-CoV-2 virus, lab professionals like Nancy, Nicholas and Richard have been hard at work to collectively perform more than 118 million PCR tests for COVID-19 as of April 19, all while adapting platforms and workflows, navigating supply constraints and working creatively and collaboratively to meet patients' evolving health needs. While new variants emerge and more Americans get vaccinated, the work of Nancy, Nicholas and Richard remain essential to ensure robust access to accurate and reliable COVID-19 testing.